Cha gio: fried rolls
One of the most famous Vietnamese appetisers, but be prepared for a lot of work (preferably done with a food processor and an army of helpers).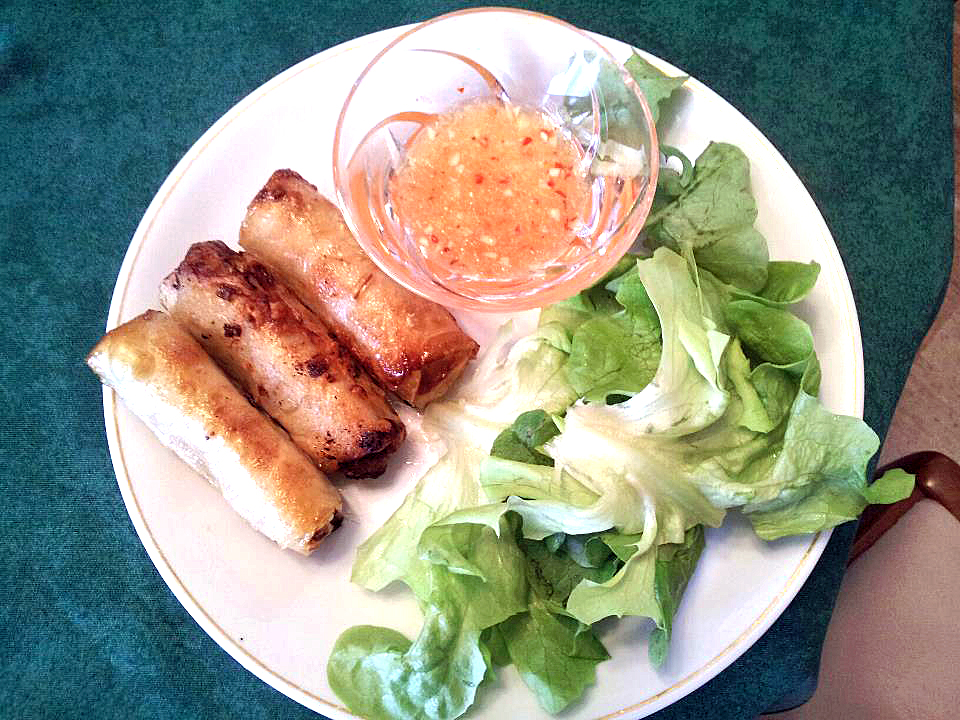 Recipe type: Appetiser
Cuisine: Vietnamese
Preparation time: 2h
Cooking time: 2h20
Total time: 4h20 mins
Serves: 30-40 rolls
Chả giò (hem rán in Northern Vietnamese. Don't order nem in South Vietnam, there's a strong risk you'll get this).
This is a challenging recipe, and I mean it. It's not so much that it requires skill (well, it does require you to get the hang of making rice paper rolls–see this tutorial at White On Rice for help), but rather that the amount of preparation involved is colossal. You have to make the filling, which requires cutting everything into small pieces (or having a food processor. That's one of the only recipes when I break out the food processor, a machine I don't have any particular affinity for). You have to make the rolls (this is where having helpers come in handy); and then you have to fry them in batches, which does not require a lot of people, but does require time. Luckily, those rolls freeze well: fry them halfway, let them cool down, and you can resume frying when you've defrosted them.
A handy trick the H and I found for making fried rolls faster is the half-baking half-frying method: you can cook the rolls in a 180°C-oven for 20 minutes, until they're starting to turn a pale golden yellow; and then put them in your deep-frying bath for 3-6 minutes to finish cooking (you'll know they're done when they're a full golden colour as above). As a hassle free alternative, the Philips Airfryer (or similar low-oil fryers) is pretty great for finishing up rolls, and requires way less attention than a deep frying bath.
Cha gio: fried rolls
Author:
Aliette de Bodard
Prep time:
Cook time:
Total time:
One of the most famous Vietnamese appetisers, but be prepared for a lot of work (preferably done with a food processor and an army of helpers).
Ingredients
1 whole onion
1 taro root (can be replaced by 3 shredded carrots)
1 garlic clove
1 shallot, or 3 scallions (scallions is better, but harder to find)
500g filling (either minced pork, crab or shrimp–I use ⅔ pork, ⅓ shrimp)
6 nam meo, or wood ear mushrooms
70-80 g of bean thread vermicelli
2 eggs
2 teaspoons sugar
1 pinch of salt and 1 pinch of pepper
2 tablespoons of fish sauce
Rice papers, 30-40
Instructions
Making the filling
Soak the bean thread vermicelli in warm water for 30 min. In a separate bowl, soak the mushrooms for 30 min.
Peel and cut the taro root into small pieces. Slice the following ingredients into small pieces: shallots, the garlic clove, the crab/shrimp if using any, the nam meo (cut the stems off and discard, slice the rest), and the vermicelli (cut length-wise into knuckle-length pieces).
Mix everything you've just cut up. Add the eggs, sugar, salt, pepper and fish sauce, and mix until you have an sort-of-even filling.
Making the rolls
Set up a rolling station, which consists of a large flat area of the kitchen, and a large dish to receive the rolls. Take a large bowl, fill it with 2L of warm water, and dissolve 3 tablespoons sugar into it.
Take a rice paper, put it in the water, wait until it starts to yield under your fingers, and put it flat on your rolling surface. Put 1-2 tablespoons of the filling on the middle, fold the side towards the middle, the front of the rice paper towards the middle (into a sort of enveloppe shape), and roll into a small cylinder. Set it aside, and continue until you run out of rolls (or fillings).
Frying the rolls
Deep-fry the rolls at 180°C for 15 minutes, or until golden. Drain on kitchen paper.
Serve with salad and nuoc mam dipping sauce.