Ca cha bong, cotton fish
A nice and healthy snack that's very easy to prepare.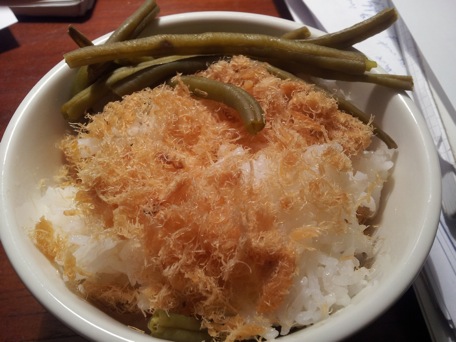 Recipe type: Basics, Main Dish, To Go
Cuisine: Vietnamese
Preparation time: 10 mins
Cooking time: 1 hour
Total time: 1h 10 mins
Serves: 4
(literally cá chà bông, "fish crushed like cotton", a very descriptive name as you can see!)
Cá chà bông (or ruốc cá as it's known in the North of Vietnam) is a strong-tasting dish which is eaten spooned over rice, or in a bánh mì sandwich with carrots, and cucumber (as a replacement for chả lụa), or simply with bread at breakfast! Its name comes from its texture, which resembles unspun fibrous cotton; its taste is pretty strong, tinged with nước mắm (of course!) and a teensy bit of garlic. There's also a meat version (thịt chà bông), which is a bit more work, as you have to pound the meat into small pieces with a mortar and pestle (and which I don't like eating quite so much!). My google-fu failed me for finding the recipe in English , so I ended up surfing the Vietnamese part of the net to find something that would do (and adapting quite liberally, as you'll see!)
It's a dead easy recipe with very few ingredients, though a teensy bit time-consuming. My only hitch was the fish: my Vietnamese cookbook listed cá lóc (snakehead fish) and cá thu (Spanish mackerel) as possible fishes, neither of which I felt confident finding at my usual fishmonger's. A quick internet search revealed the most popular fish after cá lóc was cá hồi (salmon), and other suggestions included cá tuyết (my dictionary said "mackerel", whereas Wikipedia Vietnam showed me a lovely picture of an Atlantic codfish), and cá ro phi (tilapia, if Wikipedia Vietnam is anything to go by). I crowdsourced the question to twitter (thanks very much to everyone who weighed in!) but given the sheer range of variation, I suspect that the actual fish taste is drowned by the sheer amount of nước mắm involved in the recipe, so pick what you want 🙂 More seriously, you likely have to adjust your nước mắm/sugar ratio depending on how sweet your fish is, so I'm only guaranteeing the results with the fish I ended up using, ie Atlantic codfish.
(also, I learnt tons of fish names in English AND in Vietnamese–the drawbacks of buying your fish in France but of only having a Vietnamese-English dictionary…)

Author:
Aliette de Bodard
Prep time:
Cook time:
Total time:
A nice and healthy snack, very simple to prepare
Ingredients
300g fish flesh (codfish. "cabillaud" if you're French. See notes)
2-3 tablespoons nuoc mam
2 teaspoons soy sauce
1-1.5 tablespoon sugar
2 garlic cloves, crushed into small pieces
Instructions
Bring a pot of water to boiling point, and cook the fish until it's done. Take it out, and mash it into small pieces with the help of a fork.
Meanwhile, mix the nuoc mam (I suggest starting with 2 tablespoons and adjusting later), soy sauce and sugar (same, start with 1 tablespoon) together until well blended.
On a non-stick pan on medium-high heat, put in a little cooking oil, and cook the garlic until golden. Add the fish, and mix well. Then add the mixture of nuoc mam, soy sauce and sugar, and mix thoroughly until the fish has changed colours. Lower the heat to medium-low. Taste and adjust the mix: it should be fairly salty, but not unbearably so (add sugar or nuoc mam if it doesn't suit you).
With a wooden spoon, shift and press the mixture until dry. You know you're done when you can't hear sizzling sounds coming from the pan as you press down with your wooden spoon: it takes longer than you would think, around 40 minutes or so (at least it did for me, but I started from frozen fish which is very watery).
Serve cold or mildly warm over rice or with bread. If not using, it can be kept in the fridge in a sealed jar for at least a week (cookbook and websites said a few weeks. I reckon the nuoc mam makes it keep, by and large...)
Notes
The fish most often given to prepare ca cha bong is snakehead fish (ca loc), followed by ca hoi (salmon) and ca thu (codfish). I used codfish because it was cheaper and because I suspect that, given the sheer amounts of nuoc mam that goes into the recipe, the actual taste of the fish is of little consequence. You might, though, need to adjust the amounts of nuoc mam and sugar if you use other fish (for instance salmon, which is fairly sweet, possibly requires less sugar). I've also seen ca ro phi (tilapia) used to make ca cha bong.