Bun tau xao cha chien cai bac thao: bean threads with Chinese cabbage and cha chien<
A quick and easy dish, full of nourishing flavours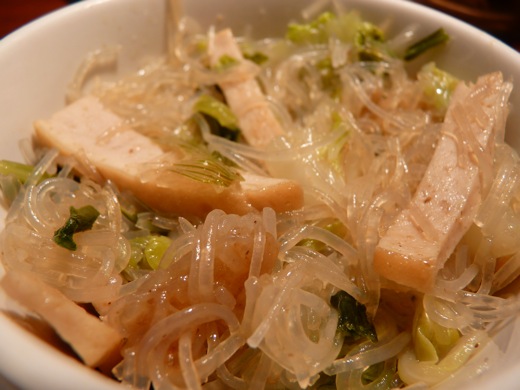 Recipe type: Main Dish
Cuisine: Fusion, Vietnamese
Preparation time: 30 mins
Cooking time: 15 mins
Total time: 45 mins
Serves: 2-4
Aka bún tàu xào chả chiên cải bắc thảo (I think), or what to do with a Napa cabbage and some leftover chả chiên that's a little past its use-by date… It's got a nice sweet kick that balances the cabbage-y taste of the Napa very fittingly.

Bun tau xao cha chien cai bac thao: bean threads with Chinese cabbage and cha chien<
Author:
Aliette de Bodard
Prep time:
Cook time:
Total time:
A quick and easy dish, full of nourishing flavours
Ingredients
60g bean thread noodles
½ Napa cabbage, sliced
250g chả chiên/chả lụa, sliced
1 spring onion, sliced
1 tablespoon hoisin sauce
1 cup chicken stock
Instructions
Put the noodles in cold water for 30 min.
Meanwhile, wash and slice the cabbage, the chả chiên/chả lụa and the spring onion.
Mix the hoisin sauce into the chicken stock.
After 30 min have passed, drain the noodles, and cut them into quarters length-wise.
In a wok on medium heat, put in a dash of oil, and fry the chả chiên/chả lụa for 1 minute, until warm.
Then add the spring onion and the Napa cabbage, and fry quickly for 2 minutes.
Add the noodles and the sauce. Mix so that everything is covered with sauce, and adjust heat to a vigorous simmer.
Cover, and cook for 10 minutes (you'd think there'd be plenty of sauce left, but the truth is that the noodles will gobble it up, and nothing will be left by the time you take the cover off). Serve in a hot dish.
Notes
The difference between chả lụa and chả chiên is that one is steamed/boiled while the other is fried. I had the second one, but they're fairly interchangeable in this recipe(the chả chiên is slightly better because it renders less water and fries better--not to mention that it comes pre-fried, as it were, but it's not really vital). You can bulk this up with a bit more cabbage and a bit more noodles if your guests are hungry.