Bulgur and chard gratin
Don't know what to do with chards? Try this lovely tasty recipe.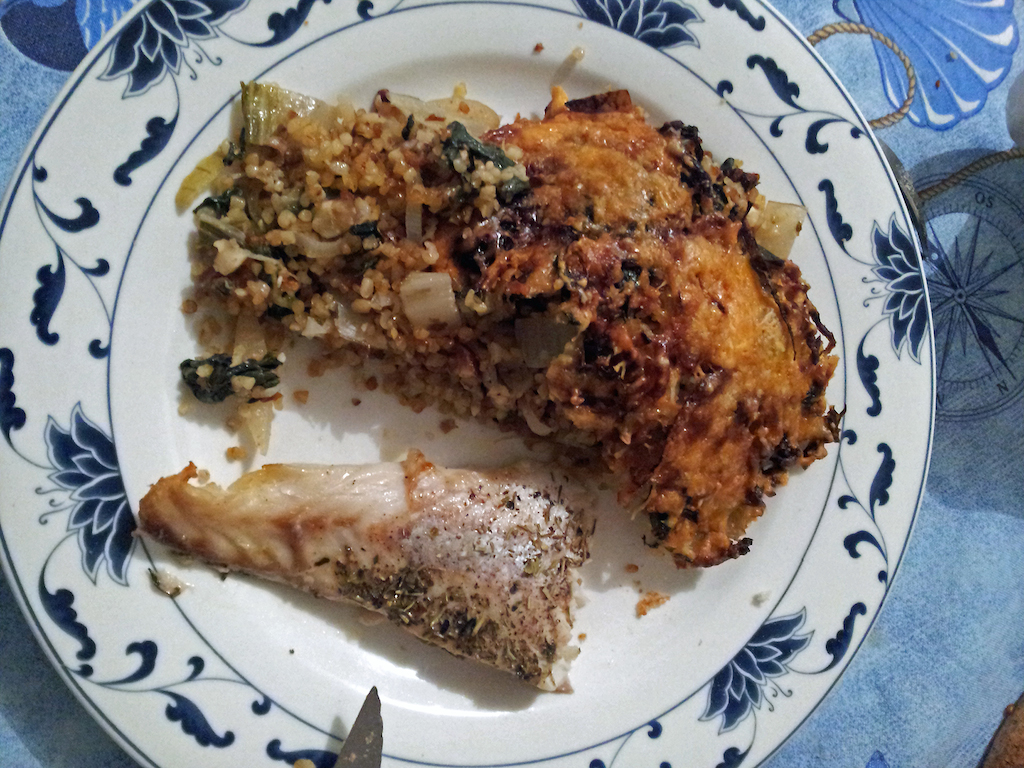 Recipe type: Side Dish
Cuisine: Fusion
Preparation time: 15 mins
Cooking time: 30 mins
Total time: 45 mins
Serves: 4
Bulgur and chard gratin
Author:
Aliette de Bodard
Prep time:
Cook time:
Total time:
Don't know what to do with chards? Try this lovely tasty recipe
Ingredients
200g bulgur
500g chards
1 tablespoon dried raisins
1 tablespoon dried hazelnuts
1 tablespoon dried almonds
1 teaspoon cumin
2 onions
100 grated cheese (parmesan preferred)
Instructions
Cook the bulgur for 15 minutes: heat up bulgur and a tablespoon of oil for 30s-1min, making sure all grains are well coated with oil, then add one and a half volume of water. Bring water to a boil and lower to a simmer, and cook, making sure to stir from time to time so it doesn't burn.
Cut the chards into little pieces, and blanch them for 2-3 minutes. Drain and set aside.
Meanwhile, pound the dried nuts into rough chunks with a mortar and pestle. Set aside.
In a frying pan, put some oil, and fry the onions. Add the chards, and fry for 2-3 minutes. Then add the cumin and the dried fruit, stirring well to combine.
In an ovenproof dish, pour the bulgur, then the chard and onion mixture, then half the grated cheese. Mix well. Add the remainder of the cheese on top of the mixture. Cook at 180°C for 20 minutes. Then set the oven on broil, and cook for a couple minutes, until the golden crust has formed.
Serve on its own, or as a side dish for fish.