Basic cookie recipe
My cookie recipe (h/t Rueter family, with fond memories of London afternoons!).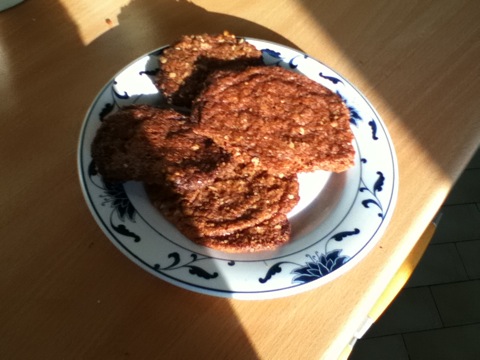 Recipe type: Basics, Biscuit, Buffet Food, Dessert
Cuisine: French
Preparation time: 20 mins
Cooking time: 1h 20 mins
Total time: 1h 40 mins
Serves: 30-40 cookies
So, for the curious amongst us, here's my cookie recipe (which I love to bits, because it's not too sweet). Beware, the quantities involved are astronomical. This easily makes 30-40 cookies; my usual batch size is perhaps half of this.

Basic cookie recipe
Prep time:
Cook time:
Total time:
My cookie recipe (h/t Rueter family, with fond memories of London afternoons!).
Ingredients
Basic dough
180g butter
2 cups flour
2 cups sugar
1 tbsp vanilla extract
1.5 tsp baking soda (about 5g)
2 eggs
1.5 teaspoon salt
Garnish
0.75 cups chopped nuts (90g)
0.75 cup oats
1.5 cups chocolate chips (100g)
Instructions
Preheat oven to 175°C.
Melt the butter, and wait for it to cool. Meanwhile, chop up what needs to be chopped for the garnish, into parts as small as you like.
Mix all the ingredients for the dough, and then fold in the garnish elements. Mix thoroughly.
Fill a bowl with water, and keep it handy, along with a fork. On a metal plate, put small-sized balls of dough (a handful), and then use the fork, dipped in water, to crush them into flat shapes.
Put into the oven, leave for around 15 minutes. The cookies should be golden but still moist. Take out of the oven, put them on a drying rack, and start again until the dough runs out.
Notes
Those will keep for a while, if you keep them in a biscuit box or some other suitable container.
This is very easy to adapt for variants. The cookies I made for Eastercon, which are the ones pictured above, were made by replacing the chocolate chips by 100g chocolate, which I melted with the butter. You can also vary the garnish, of course: I've used raisins, berries, other nuts, peeled and candied oranges... Whatever you feel like. I usually replace in equal volumes, so about 3 cups of garnish all in all, but your mileage might vary.
I do like to keep the oats because it keeps the cookies crunchy, but they're not compulsory either.

And now I'll leave you, as I'm about to try a dangerous cooking experiment--namely, replicating something I once ate in a restaurant...