Banh uot thit nuong: lemongrass beef with sesame seeds
Beef, lemongrass and sesame seeds combine together for an explosion of taste.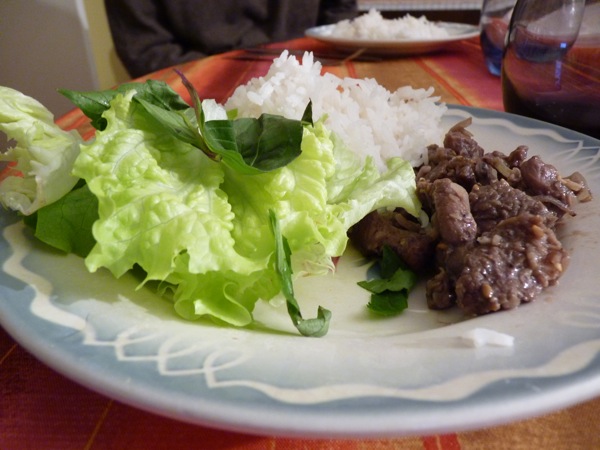 Recipe type: Main Dish
Cuisine: Vietnamese
Preparation time: 40 mins
Cooking time: 30 mins
Total time: 1h 10 mins
Serves: 4-5
(I know, bánh ướt thịt nướng doesn't translate to that–means "wet cakes with grilled beef", but it makes for a good dish title 🙂 )
I found this recipe in Bach Ngo's The Classic Cuisine of Vietnam (a book which, incidentally, I heartily recommend). It's an awesome way of melding lemongrass and sesame, two very yummy ingredients. I suspect, from comparing the name and the final result, that I've missed something (a bánh ướt is a wet rice paper wrap, kind of like bánh cuốn, whereas the original recipe wraps the meat in dried bánh trắng rice papers–like the ones for spring rolls. But I might have missed something there, quite possibly by misinterpreting the book…), but what the heck, it's still awesome to eat! The book offers to roll it up in rice papers, but since the batch I made was so large, the H and I ended up exploring variations: we served it with bún, and also with rice and salad and herbs.

Banh uot thit nuong: lemongrass beef with sesame seeds
Prep time:
Cook time:
Total time:
Beef, lemongrass and sesame seeds combine together for an explosion of taste.
Ingredients
Beef
1 pound beef (sirloin or a similarly tender part of the beast)
1 tablespoon toasted sesame oil
1 tablespoon fish sauce
2 stalks lemon grass
2 shallots, or the white part of 3 scallions
2-3 garlic cloves
1 teaspoon brown sugar
1 tablespoon sesame seed
Wraps
Salad
Mint and coriander (I suspect rau răm or red perilla would go better with this than European mint, actually)
Round rice papers (bánh trắng), 18cm
Dipping sauce
Instructions
Slice the beef thinly. Discard the outer stalks of the lemongrass (the large ones with the leaves. I have never bought lemongrass in France that actually had those, so I just rinse mine, but it could be that elsewhere you have those leaves). Discard the upper two-thirds of the lemongrass, and slice into very thin pieces.
Using a mortar and pestle (or food processor), pound the shallots, sugar and garlic together until you get a thick paste (I've found it helps to slice the shallots first, and to leave the pieces to dry in a warm place on kitchen paper for about 30 min, otherwise it ends up way too mushy). Add the sliced lemongrass, the sesame oil, the fish sauce, and the sesame seeds.
Put the beef in, and leave to marinate for 30 minutes or more. Meanwhile, preheat oven to 220°C.
Line an ovenproof dish with foil, and put in the beef and marinade so that the pieces are touching (but not in a very thick layer, otherwise this will not cook).
Put in the oven, and bake for 30 minutes, or until the beef is cooked. If you have a broiler/grill function in your oven, you can grill the meat (but cook for ~15-20 minutes instead of 30, and flip the meat on its side halfway through the cooking process to avoid burnt beef!).
Leave to cool before serving (if serving with bún or rice papers).
Notes
To serve with rice papers: soften the rice paper in water, wrap some beef pieces, some salad, some coriander and some mint. Roll like you would an envelope: sides first, and then a tight upwards roll so that you end up with a cylinder (plenty of videos on the web on how to roll rice papers).
To serve with bún: put the bún in boiling water for around 2 minutes, drain, rinse under cold water. Leave to cool. Then in a bowl, put salad, bún, and herbs, top with the beef, and add a sprinkling of the sauce.
To serve with rice: I should think it's pretty self-explanatory 🙂