Banh chuoi nuong: banana and coconut pudding
A fast, easy and tasty dessert.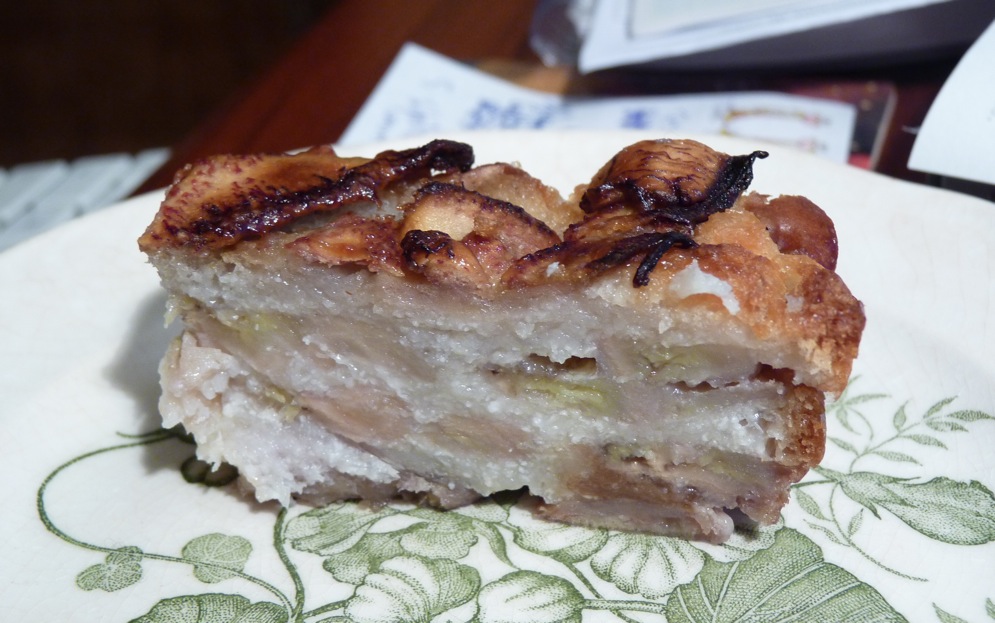 Recipe type: Cake, Dessert
Cuisine: Vietnamese
Preparation time: 20 mins
Cooking time: 40 mins
Total time: 1h
Serves: 6-8
OK, I realise I shouldn't be posting quite so many recipes, but I couldn't resist this one when Anh put it online as part of the Delicious Vietnam blogging event (a collection of blog posts celebrating the food of Vietnam, which incidentally has my own bì cuốn–and which netted me Luke Nguyen's Indochine cookbook when I won the prize draw!).
Bánh chuối nướng literally means grilled banana cake (see how my vocabulary is improving? :D).
Have I got your attention now?
By and large, Vietnamese cuisine doesn't do desserts, at least not in the Western sense: a plate of fresh fruit is always suitable for serving at the end of meals, no matter how lavish they might be. Vietnam doesn't really do pies, baked chocolate cakes, pièces montées, or the full range of pastries you can find in, say, France.
However, there are a few desserts, which tend to be very small doses of concentrated sugary goodnesss. This is one of them, and it's dead simple to make. All you need is a few bananas, some sliced sandwich bread, and coconut cream, et voilà, you're done!
The recipe is from Anh's A Food Lover's Journey: since the blog looks to be defunct, here's the instructions:

Banh chuoi nuong: banana and coconut pudding
Prep time:
Cook time:
Total time:
A good way to use overripe bananas
Ingredients
4-5 large ripe bananas
80g brown sugar
20g caster sugar
200ml coconut milk
10 slices white bread
Instructions
Cut the bananas in thin slices, lengthwise. Put them in a bowl and sprinkle the caster sugar over them.
Warm the coconut milk (DO NOT boil it, it'll go funky), and dissolve the brown sugar in it. Leave to cool.
In an oven proof dish, put a layer of bananas, then cover it with a layer of white bread slices dipped in the coconut milk and sugar mixture, then alternate all the way to a topmost layer of bananas. Dribble oil or melted butter on top, and sprinkle with sugar. You can pour the rest of the coconut milk on top of it if there's any left.
Put in oven, 180°c, 1 hour to 1h15, until golden on top and moist inside.
Just a few notes on the process from me: bananas, especially ripe ones, are a pain in the %%% neck to slice lengthwise, so don't worry if they end up a bit mashed in the process. You want thin slices, though.
If you've ever wondered about the difference between coconut cream and coconut milk: both are made by mixing the liquid that's actually inside the coconut (coconut water) with the pulped flesh of the coconut. Depending on how much flesh vs. water you got, you either have milk or cream: cream has a very high content in pulp flesh and thus a creamier consistency. So the 200mL are definitely coconut cream (milk would see you not put enough coconut in the mixture).
Anh took the crust away on her bread; I found that with white bread, the crust was basically so soft that I could leave it on and this did not detract the pudding from settling in. I didn't have any brown sugar, so I put in 80g of caster sugar, dissolved it in warm coconut milk, and did fine.
The baking pan: I wouldn't line it with baking paper, honestly. With me, the baking paper got soaked through by the coconut cream, which made it all but impossible to separate it from the cooked pudding. A standard (porcelain or metal) pan plus a good knife should work fine.
The process of putting the cake together is very much lasagna-like: layer of banana, layer of bread dipped in sweet coconut, layer of banana, … I sprinkled some sugar on top of the last (banana) layer in addition to 2-3 tablespoons of neutral oil, which enabled the thing to caramelise in the oven. The cooking time for me was closer to 1h00 at 180°C, and then 15 extra minutes at 200°C: the insides were still not congealed together at the one-hour mark, and the top hadn't yet got that caramelised sheen.
And here is the beast, fresh out of the oven!