Banana Chocolate Cake
A good way to use ripe bananas.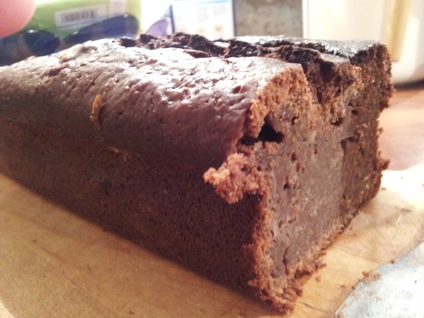 Recipe type: Cake, Dessert
Cuisine: French
Preparation time: 30 mins
Cooking time: 55 mins
Total time: 1h 25 mins
Serves: 8
So, I made up this recipe when I was left with 4 overripe bananas and a slightly old slab of butter. Original quantities were by hand ("au feeling", as we say in French–aka the cooking motto that strikes fear into the H's heart 🙂 ). I outsourced my quest for suitable recipes onto Facebook: my deepest thanks to everyone who contributed (Karen Smith, Laura Anne Gilman, Steven Forstner, Myra Cakan, Ruth Long, Abhinav Jain, and Merrie Haskell). Extra dose of thanks to Jo Thomas, who gave me the recipe I used as a starting point!

Banana Chocolate Cake
Author:
Aliette de Bodard
Prep time:
Cook time:
Total time:
A good way to use ripe bananas.
Ingredients
140g flour
120g sugar
50g cornstarch
11g baking soda
2 eggs
100g butter
100g chocolate
4 ripe bananas, mashed
125g yoghurt (1 French yoghurt pot)
1 tablespoon sugar
1 teaspoon vanilla extract
Instructions
Preheat oven to 180°C.
On a saucepan on low heat, melt the butter and chocolate together. Let it cool.
Sift together the flour, cornstarch, the 120g of sugar and the baking soda. Add the eggs and mix well. Add the cool chocolate and butter mixture, and mix.
Mix together the bananas, the yoghurt, the tablespoon sugar, and the vanilla extract. Then mix it with the rest!
In an oiled mould, put the dough. Then put in the oven and cook at 180°C for 50 minutes-1 hour, or until a knife blade jabbed through the cake comes up clannish.
The cake will significantly harden as it cools--do leave it to cool before deciding it's not cooked!
Notes
The yoghurt can probably be replaced by 3 tablespoons sour cream, but you'll have to adjust the amount of flour and sugar to have a correct taste! (not tried this myself).
The dough should be a little liquid, but not overly so (enough to ponderously flow into the mould from the mixing bowl, but not to run like a waterfall!) ; don't hesitate to adjust flour/sugar if it flows too much.