2019 awards consideration post
It's that time of year again! I've had a 2019 and a half to say the least, so I'm afraid this is going to be a brief list, but I did want to highlight a few really really nice things I read last year, so without further ado.
For your consideration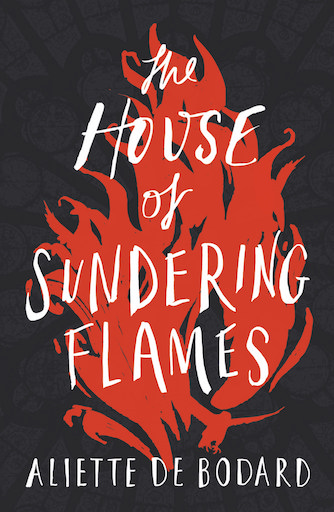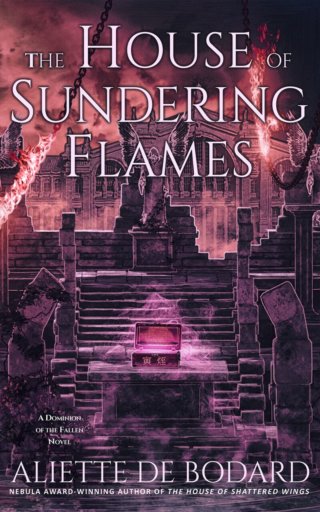 My novel The House of Sundering Flames came out last year from Gollancz/JABberwocky, and wrapped up the Dominion of the Fallen series, a tale of a Gothic devastated Paris, Fallen angels, dragons, politics, colonialism and how to rebuild in the wake of huge devastation (also the cutest dragon toddler, the best murderbirds husbands aka the combination of a totally amoral Fallen and his increasingly distraught dragon partner, and the best Vietnamese aunties that you DO NOT want to cross)
It was long listed for the BSFA Award and is on the Locus Recommended list for Best Fantasy Novel, and here's what people have said about it:
"A dark saga of ruined cities, fallen angels, and awakening dragons… a must read… an intoxicating blend of gothic mystery, apocalyptic fantasy, and Vietnamese myth—meaty, singular, and satisfying."
Joel Cunningham, Barnes and Noble
"Incredible… one of the most original, fantasy settings I've seen"
Adrian Tchaikovsky, Arthur C. Clarke Award-winning author of Children of Ruin
You can get a copy here:
Buy Now
And you can read here:
I've had the question, so yes, the "birthday goes wrong" comedy of manners "Of Birthdays, and Fungus, and Kindness" in my short story collection Of Wars, and Memories and Starlight is eligible for Best Novella if you so enjoyed it. The short story collection as a whole is eligible for Best Collection in awards like the World Fantasy Award.
EDIT: Farah Mendlesohn kindly reminded me that Dominion of the Fallen, as a whole, is eligible for Best Series if you happen to have a spot in your Hugo Awards ballot.
And here's my list of things I loved this year! (I will, as usual, amend as I catch up on 2019, though I do have to be fair and warn that I'm not committing to this as this continues to be a bit of a wild year).
Novelette
Elizabeth Bear, "Deriving Life" 
A story about grief and alien symbiotes and a relationship torn apart by death. The characters in this are so strong, fair warning it's a tear-jerker.
Short story
John Chu, "Probabilitea"
A sweet story about the daughter of a god-like figure who must learn to manipulate the future. Also, tea and maths!
Fran Wilde, "A Catalog of Storms"
Storms, winds' names and a family–and what it means to be sister to a heroine.
Nghi Vo, "Boiled Bones and Black Eggs"
Hauntings at an inn, and how to banish a ghost. The food descriptions are mouth-watering, but beneath it is quite a sharp story about power and memory.
Eugenia Triantafyllou, "We are Here to Be Held"
A story of motherhood and monsters. I read this one at the beginning of the year and it's kept sticking with me, it's haunting and strange and just the right length.
Marie Brennan, "This is How"
Myths, ravens and dead children. Poetic and packs a punch.
Morgan Al-Moor, "The Beast Weeps with One Eye"
Dark bargains, survivals and the hunger of gods. I really loved the worldbuilding and the voice in this.
Novel
Tade Thompson, The Rosewater Redemption
Tade had two books out this year, but the finale of the Rosewater series (an alien invasion tale set in the eponymous city in Nigeria) is to me the most memorable, dealing with complex politics, colonialism as alien invasion, and how people from disparate walks of life can rise and fight to make something better.
Arkady Martine, A Memory Called Empire
Arkady's book follows an ambassador from a space station in an alien and all-encroaching empire, and deals with her fascination and repulsion for her massive neighbour. The world building is amazing, and so is the storyline, which deals with the politics of encroachment and hegemony.
Kacen Callender, Queen of the Conquered
I wasn't expecting this book to stab me in the chest and tear it apart, but that's what it did. It's a raw, unflinching look at slavery and its consequences in a re-imagined Carribean world where people have a  magic called kraft (which is forbidden to slaves), and one woman's quest to get revenge at any cost and what it does to her.
Tasha Suri, Realm of Ash
Tasha's strong followup to Empire of Sand follows a young widow who must learn to make her own life and find her own happiness–and, in the process, fight the darkness that has spread over the Ambhan empire. It's strongly paced, imaginative, and has a delightful set of main characters with great chemistry.
Zen Cho, The True Queen
This was super sweet! The follow-up to the Sorcerer Royal follows a queer Muslim woman looking for her missing sister and dragged into the politics of Faerie. It's a fun and fluffy English regency, with sharp digs at the reality of Regency for non-white colonial subjects. And also the sweetest dragon and his husband (Pogo is back!!). Can be read standalone from the book that precedes it (but you really should get both).
Norton
Fran Wilde, Riverland
This is an unflinching and much needed book about abuse and what it means for children. Sisters Mike and Eleanor hide under the bed at their home to find a safe place, and trade monster stories. But when the bed becomes the opening to a magical land, Eleanor must find a way to heal the land–and help Mike and herself finally find true safety.
Astounding Awards
I believe Tasha Suri is eligible for this one and it's her last year of eligibility!