Cover reveal: In the Vanishers' Palace
Once upon a time, I wrote a book.
I was exhausted, dealing with health issues and a bunch of kids-related anxiety–and writing had just stopped being fun. I could tell I was flirting with burnout, because I'd had it before in other settings. I could tell I was going to crash and that it wasn't going to be pretty when it did happen. But also, stopping writing would have been about as easy as stopping to breathe.
So I decided to write something just for me. A book that I'd feel like sinking into for pleasure: a queer retelling of Beauty and the Beast, except in a setting inspired by Vietnamese folklore–drawing from all those stories my mother and grandmother told me, the ones with scholar-magicians and dragons and kỳ lân and rooster spirits, where words had the weight of magic. Something fun and frothy and feelgood.
Obviously I don't do fun and frothy very well, because I seem to have ended up with a postcolonial, postapocalyptic Beauty and the Beast, where both are women and the Beast is a dragon (because dragons, and because f/f relationships in SFF need more happy endings!), and where spirits and humans alike are struggling to survive in a world ruined by their former masters. And it wasn't always feelgood to write: in fact, it was downright uncomfortable, because it ended up being such a weighty and personal story, because I drew on so much that meant so much to me. But it was important. It mattered to me. And that helped me claw my way out of the hole. It helped me find joy and meaning in writing again.
It also ended up being a decidedly awkward length (novel-length but too short for fantasy novel publishers). So I had to make a decision: I could stick it in a drawer for the time being, or I could try self-publishing it. I'd self-published books before but never an original, so the idea of doing self-publishing with this seemed like a super scary experience. A bit like putting out a raw bleeding piece of my heart out there without the backing of traditional publishing.
I went the scary way.
Without further ado I'm very happy to reveal the cover and to open preorders for In the Vanishers' Palace, which is coming out October 16th from all major retailers. Scroll down for more info!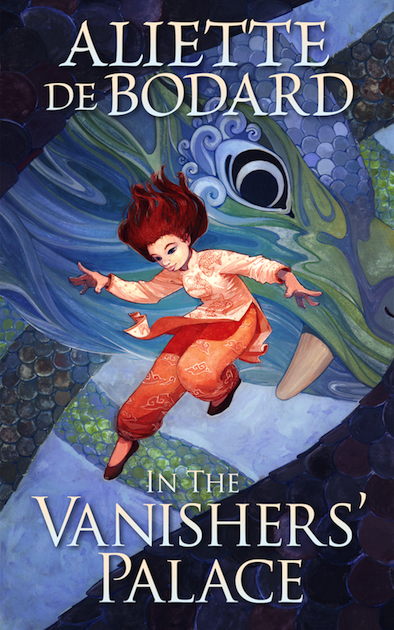 Cover art by Kelsey Liggett, cover design by Rhiannon Rasmussen-Silverstein and Melanie Ujimori.
Publication date: October 16th from JABberwocky ebooks.
(NB: there will be a print edition, it will drop later in October: basically amazon doesn't let us list a print book for preorder, so we'll have to manually publish it around mid-October, and then wait about a week for it to go live. Links will be posted when available)
From the award-winning author of the Dominion of the Fallen series comes a dark retelling of Beauty and the Beast.
In a ruined, devastated world, where the earth is poisoned and beings of nightmares roam the land…
A woman, betrayed, terrified, sold into indenture to pay her village's debts and struggling to survive in a spirit world.
A dragon, among the last of her kind, cold and aloof but desperately trying to make a difference.
When failed scholar Yên is sold to Vu Côn, one of the last dragons walking the earth, she expects to be tortured or killed for Vu Côn's amusement.
But Vu Côn, it turns out, has a use for Yên: she needs a scholar to tutor her two unruly children. She takes Yên back to her home, a vast, vertiginous palace-prison where every door can lead to death. Vu Côn seems stern and unbending, but as the days pass Yên comes to see her kinder and caring side. She finds herself dangerously attracted to the dragon who is her master and jailer. In the end, Yên will have to decide where her own happiness lies—and whether it will survive the revelation of Vu Côn's dark, unspeakable secrets…
Advance praise:
"Another stellar offering by Bodard. Her signature intensity is on display in this tale of people (and dragons) struggling to survive in the ruins of an alien conquest. Emotionally complex relationships interweave with richly drawn and deftly nuanced world-building."
Kate Elliott, Author of the Court of Fives series
"A transformative experience. With dragons."
Fran Wilde, Hugo and Nebula nominated author of The Bone Universe and The Gemworld series
"Gorgeously atmospheric queer fantasy (…) like Jane Eyre if Rochester was a woman plus a dragon."
Zen Cho, author of Sorcerer to the Crown and The True Queen
I would love if you preordered this: as I said, this is new and a bit scary for me, and self-publishing obviously means I'm bearing the costs I incurred for making a book (cover art, copyediting, etc.). Thank you so much!
Buy now
Add the book on Goodreads
(I will now go and hide under the bed)