How to Feed Magic: Cooking the Books with Chelsea Polk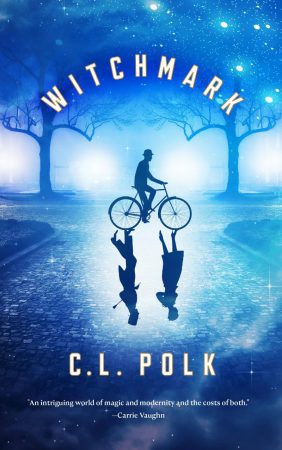 I read and *loved* Chelsea Polk's glorious debut novel, Witchmark, from Tor.com Publishing and Tor Books (I blurbed it, in fact!). Set in an alternate post-War world, it's got magic, family, politics, the sweetest gay romance, and bicycle chases! Still time to preorder, by the way: Amazon | Barnes and Noble | Macmillan.
It's also filled with food — apples in particular, but other foods as well.
Fran Wilde and I sat down (metaphorically) with Chelsea to talk about the book and more. She also answered questions for our partners in crime The Booksmugglers!
Chelsea will be at 4th Street Fantasy in June, and celebrating the launch of Witchmark soon after, but you can hear her here first!
It's all for Cooking the Books this month, both here and at the extension kitchen over at The Booksmugglers! (check out Chelsea's Booksmugglers Bonus answers!).
This month's Cooking the Books Podcast, #037: How to Feed Magic – Cooking the Books with Chelsea Polk contains:
Energy-replenishment Guidelines After Magic Use
The food you eat with friends
LGBT Romance Recs (along with some adult recs)
Improper substitution of fountain pens for food by Aliette Pen Bodard
The best way to cook steak and pasta
A few thoughts about post-war PTSD
Cookies
And much more.
Ready? 
Subscribe to the Podcast here! Or on iTunes! Or click play below:
(and consider supporting us on Patreon!)

Visit additional Cooking the Books content over on the The Booksmugglers!
(thanks as always to our friend Paul Weimer, who helps out with the kitchen cleaning–this time it was thick trail mix!)
Podcast #037: How to Feed Magic – Cooking the Books with Chelsea Polk
---
Chelsea's Recipe: Trail Mix Oatmeal Cookies
I love oatmeal cookies. I'll even eat them with raisins. but I greatly prefer the version I developed a few years ago, with dried cranberries, chocolate chips, and pecan pieces. this recipe is a relatively small batch of cookies, by my gluttonous standards – I make a dozen, and freeze the other half to make more later.
To make these cookies, you need:
1/2 cup butter, room temperature
125g (about 2/3 cup) brown sugar
1 large egg
1/2 tsp vanilla
1/2 tsp baking soda
1 tsp cardamom (cinnamon is a fine substitute)
1/2 tsp salt
95g (about 2/3 cup) all-purpose flour
120g (about 2/3 cup) rolled oats
1/2 cup dried cranberries
1/2 cup semi-sweet chocolate chips
1/2 cup pecan pieces
Order of Operations:
In a medium sized mixing bowl, cream butter and brown sugar together, adding egg, vanilla, baking soda, cardamom, and salt. Stir in flour; mix in rolled oats in gradual doses, and then add cranberries, chocolate chips, and pecan pieces. mix well.
Refrigerate for a minimum of 30 minutes, maximum 24 hours.
Preheat oven to 350. Drop 1.5″ balls of dough on a cookie sheet.
Bake for 10 minutes; leave on the sheet to continue cooking for 5 minutes.
Store in an airtight container to preserve the chewy texture. They will probably last in the refrigerator for several days, but I don't have that kind of willpower.
---
C.L. Polk writes fiction and spots butterflies in Southern Alberta. She has an unreasonable fondness for knitting, single estate coffee, and the history of fashion. Her debut series beginning with the novel Witchmark is available from Tor.com Publishing.
---
Cooking the Books is a mostly-monthly podcast hosted by Fran Wilde and Aliette de Bodard.
Check out our archives.