The Tea Master and the Detective, ebook edition (outside N America)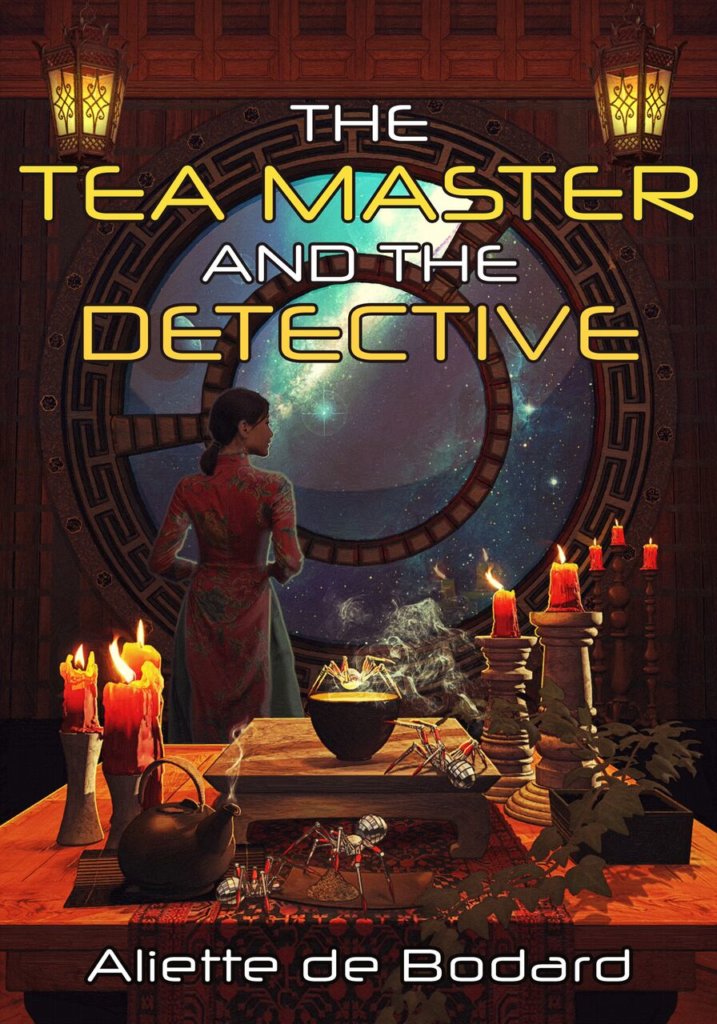 Thrilled to reveal the cover of the ebook edition of the Tea Master and the Detective outside North America. Isn't it gorgeous? Also yesss I got an áo dài on a cover!!! (the áo dài is a traditional Vietnamese female dress). Art and design is by Dirk Berger , with many many thanks to John Berlyne for his help, as well as Likhain, Kate Elliott, Vida Cruz, Sebb, Stephanie Burgis and Patrick Samphire.
The book will be out April 2nd from JABberwocky, but you can preorder it right now on Amazon, Kobo, and iBooks!
If you're in North America, Subterranean is now shipping both the book and the ebook: it will become available at major retailers March 31st, 2018.
Here's the summary:
Once, the mindship known as The Shadow's Child was a military transport. Once, she leapt effortlessly between stars and planets, carrying troops and crew for a war that tore the Empire apart. Until an ambush killed her crew and left her wounded and broken.
Now the war is over, and The Shadow's Child, surviving against all odds, has run away. Discharged and struggling to make a living, she has no plans to go back into space. Until the abrasive and arrogant scholar Long Chau comes to see her. Long Chau wants to retrieve a corpse for her scientific studies: a simple enough, well-paid assignment.
But when the corpse they find turns out to have been murdered, the simple assignment becomes a vast and tangled investigation, inexorably leading back to the past–and, once again, to that unbearable void where The Shadow's Child almost lost both sanity and life…
Buy Now
And here are a few reviews if you're still undecided:
What people are saying:
The Tea Master and the Detective is the Sherlock Holmes retelling I always wanted and now I have it. And I want so much more of it.
A terrific piece of writing, taking the sentient community of ships from Ian Bank's Culture series, the glittering belt of space habitats from Alastair Reynolds' Prefect novels, and adding in a compelling pair as the title characters.
"This slim volume packs a visceral punch. Absorbing prose takes the reader in the dark, frigid space between the stars, where ships can fail, physically and emotionally, as well as people. (…) an imaginative read.
Library Journal (starred review)
De Bodard constructs a convincingly gritty setting and a pair of unique characters with provocative histories and compelling motivations. The story works as well as both science fiction and murder mystery, exploring a future where pride, guilt, and mercy are not solely the province of humans.
Ingenious… As a classical blend of far-future SF and traditional murder mystery, The Tea Master and the Detective should satisfy readers unfamiliar with the Xuya universe, but at the same time it's an intriguing introduction to that universe, much of which seems to lie just outside the borders of this entertaining tale.
Gary K Wolfe, Locus
This book shows sharp, intelligent dialogue with wildly peculiar worlds and spaces. The elegant weaving of narrative is what we've come to expect from de Bodard's unique style. This is the opposite of a closed-room mystery, an open-space mystery which pushes the boundaries of A.I-as-person and genius-as-misanthropic-detective. Deeply affecting and always entertaining, The Tea Master and the Detective should be your next read.
Tade Thompson
Buy Now