Cooking the books with Malka Older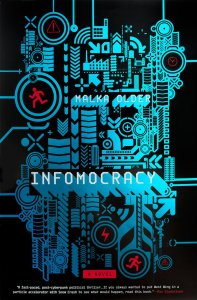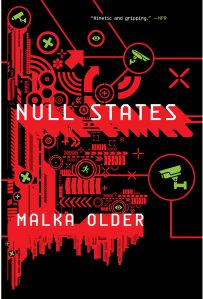 Our fabulous friend Malka Older found time between busy moments at BEA to talk with co-host Fran Wilde and me about her relief work in Japan after Fukushima, writing the data-driven, sf stunners Infomocracy and Null States (out soon from Tor.Com Publishing!) and telling us what foods go away first in an infomocracy universe. It's all  for Cooking the Books this month, both here and at the extension kitchen over at The Booksmugglers! (check out Malka's Booksmugglers Bonus answers!).
Haven't read Infomocracy yet? Now's the time — so you can get caught up for Null States! (and read Malka's earlier Book Bite over here too)
This month's Cooking the Books Podcast, #031:  Lines of Supply – Cooking the Books with Malka Older contains:
One half dash, procrastination
Three heaping spoonfuls of prognostication
A possible pigeon
A handful of social programming
A touch of poetry
Only the best picadillo

Ready? 
Subscribe to the Podcast here! Or on iTunes! Or click play below:
(and consider supporting us on Patreon, hmm?)

(thanks as always to our friend Paul Weimer who helps clean up the CtB kitchen after we destroy it…)
Podcast #031: Lines of Supply – Cooking the Books with Malka Older
Recipe: Picadillo
Ingredients:
ground beef,
onion,
pepper (any kind),
garlic,
cumin,
oregano,
tomato sauce,
raisins,
olives,
olive oil
Sautée the onion and pepper in the oil. Add the ground beef and break it up to brown thoroughly. Add the garlic, minced or crushed.
Add a lot of oregano (I am not kidding, a lot) and some cumin.
Add tomato sauce and bring to a boil. Add raisins and olives, turn heat down and cover, simmer for 30-45 minutes.
If it gets dry add liquid: water, beer, stock, etc.
---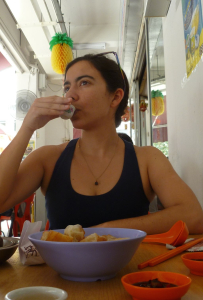 Malka Older is a writer, aid worker, and PhD candidate. Her writing can be found at Leveler, Tor.com, Bengal Lights, Sundog Lit, Capricious, Reservoir, Inkscrawl, Rogue Agent, in the poetry anthology My Cruel Invention, and in Chasing Misery, an anthology of writing by female aid workers. Her science fiction political thriller Infomocracy is the first full-length novel from Tor.com, and the sequel Null States will be published in 2017.
She was nominated for the 2016 John W. Campbell Award for Best New Writer. Named Senior Fellow for Technology and Risk at the Carnegie Council for Ethics in International Affairs for 2015, she has more than a decade of experience in humanitarian aid and development. Her doctoral work on the sociology of organizations at the Institut d'Études Politques de Paris (Sciences Po) explores the dynamics of multi-level governance and disaster response using the cases of Hurricane Katrina and the Japan tsunami of 2011.  You can find her on Twitter, Facebook, and at malkaolder.wordpress.com.