Revealing: Children of Thorns, Children of Water, an exclusive preorder reward for House of Binding Thorns
I've spoken of it before, but preorders are super important–they help establish enthusiasm for the book, and also boost sales in that all-important first week. As an author they also feel special to me, because readers are making a great gesture of faith on a book that hasn't been delivered yet. Last time, for The House of Shattered Wings, I offered an exclusive small ebook of short stories (which you can now read for free here). This time around, I considered several options, but in the end the exclusive short story was, once again, the one that polled best. So I set out to writing a really short prequel story set just before the beginning of The House of Binding Thorns, which would introduce some of the new characters, showcase some old favourites, and get readers ready for enjoying the book.
Except, erm.
I ended up writing a novelette. All 12,000 words of it. So much for short, but on the plus side you should get an immersive, detailed read :p
So… preorder The House of Binding Thorns, and you get access to "Children of Thorns, Children of Water", an exclusive prequel short long story set just before the events of the book. Here's the cover: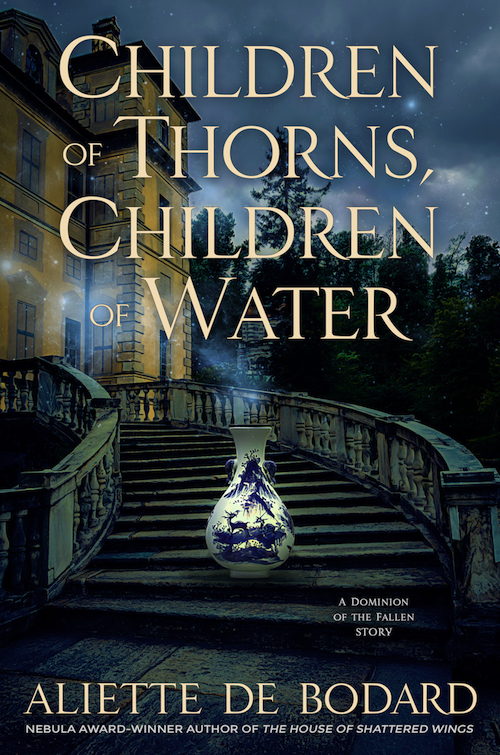 I'm over at the Gollancz blog explaining a bit about how Megan Crewe designed it.
If you don't feel like hopping there, here's more info about the story:
In a Paris that never was, a city of magicians, alchemists and Fallen angels struggling to recover from a devastating magical war…
Once each year, the House of Hawthorn tests the Houseless: for those chosen, success means the difference between a safe life and the devastation of the streets. However, for Thuan and his friend Kim Cuc, — dragons in human shapes and envoys from the dying underwater kingdom of the Seine — the stakes are entirely different. Charged with infiltrating a House that keeps encroaching on the Seine, if they are caught, they face a painful death.
Worse, mysterious children of thorns stalk the candidates through Hawthorn's corridors. Will Thuan and Kim Cuc survive and succeed?
You can get the ebook of Children of Thorns, Children of Water if you preorder The House of Binding Thorns (ebook, audiobook or physical book): Gollancz has kindly agreed to fulfilling the US preorders in addition to the UK ones, so whichever edition you preordered (aka "the one with the sword" or "the blue one with the thorns"), just go here and fill in the form to get access.
And here's where to preorder!

Buy now
If you're a newsletter subscriber, my next newsletter is going out tonight, and will feature an excerpt from Children of Thorns, Children of Water. If you're not a subscriber, there's still time!
And here's some review quotes, just in case you're not convinced: