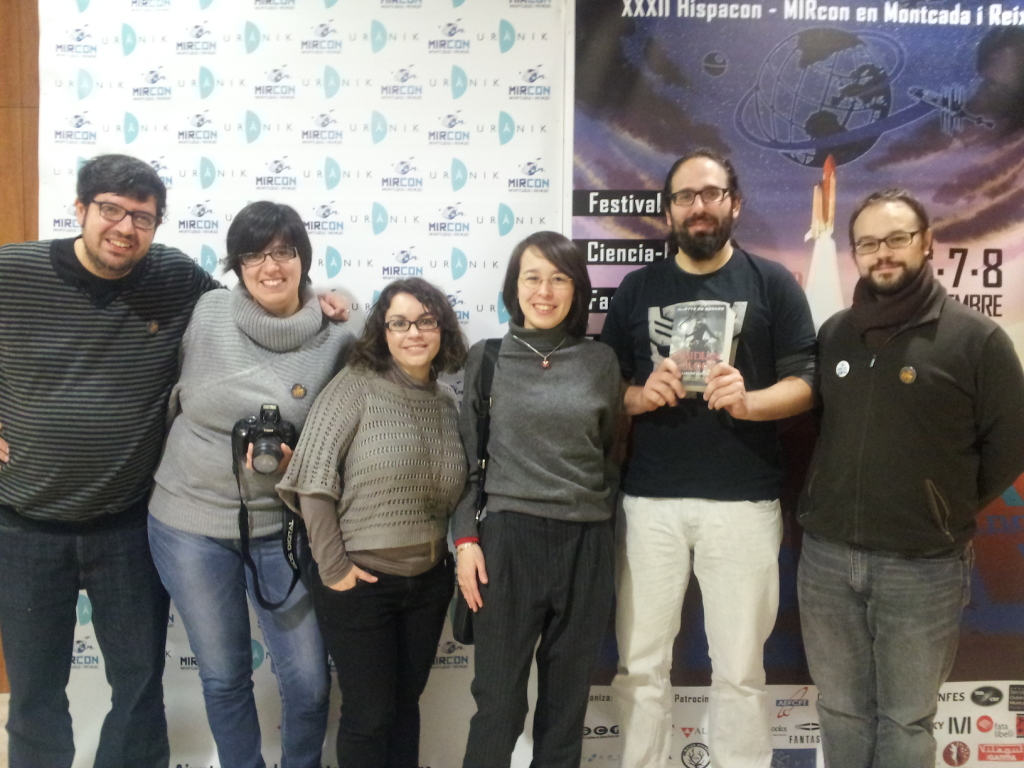 The short version of this con report is: Hispacon rocks, and you should all go 🙂
The long(ish) version: I had a great time at MIRcon, the Hispacon in Barcelona. It's a small convention (70-80 attendees, if I understood correctly), but it's a very friendly and enthusiastic one: spread over several locations, it had a junior track, a sister con in Catalan (MIRcat), and a bunch of really prestigious guests (Nina Allan, Christopher Priest, Karin Tidbeck and Felix J Palma). I survived the delivery of my speech (and Silvia Schettin kindly provided a great interpretation–I think we're both very glad it went, well since we were equally nervous about it :p); had a delightful impromptu roundtable with Spanish fans which converted into a Q&A session in Spanish (the audience kindly shouted the translations of those words I didn't know at me; though after that hour of answering questions, I basically was ready for a high-calorie meal and some quiet time); signed a bunch of download cards (my Spanish editor, Fata Libelli, is ebooks only, but they had brought over cardboard books with a download code); and enjoyed a spot of gastronomy. I caught up with pan tumaca and great ham; and had a tussle with the Lobster of Doom (it started out as a bunch of us ordering arroz negre, a local specialty of rice with squid ink. Following a misplaced order, we ended with rice with lobster. Which would have been fine, if said lobster had come with actual decent tools. A flimsy pair of pliers and a knife don't count–though you'll be pleased to know that I did prevail in the end).
I also got to hang out with fabulous people (caught the tail end of the interview with Christopher Priest; and the tail end of Nina Allan's interview; and sadly had to miss out on Karin Tidbeck's brilliant speech due to a signing session), brushed up on my (rusty) Spanish; and attended the Ignotus Awards. And, hum, got to snatch some sleep (desperately missed in the weeks since the snakelet started crawling around the house).
So all in all, a great experience. My deepest thanks to the organisers and everyone who contributed to making this a great experience: the con team (Gemma, Miquel, Ismael, Oscar, Lupe, Raquel, and I sincerely hope I haven't forgotten anybody, apologies if I did 🙁 ); Silvia Schettin and Susana Arroyo, my editors at Fata Libelli; Ian Watson and Cristian Macias for the great tour of Barcelona (and for showing me Gigamesh, aka the genre temple in Barcelona); Sofia Rhei for the company and the lovely book (the adventures of Young Moriarty–in Spanish!) and Leticia Lara for the great lunch, and the free copy of Alucinadas (an anthology of SF by women in Spanish, which I'm looking forward to reading).
I am given to understand that next year's Hispacon is in Granada–what are you waiting for?
ETA: I've put up my GoH speech, here.