Nebula Award post thoughts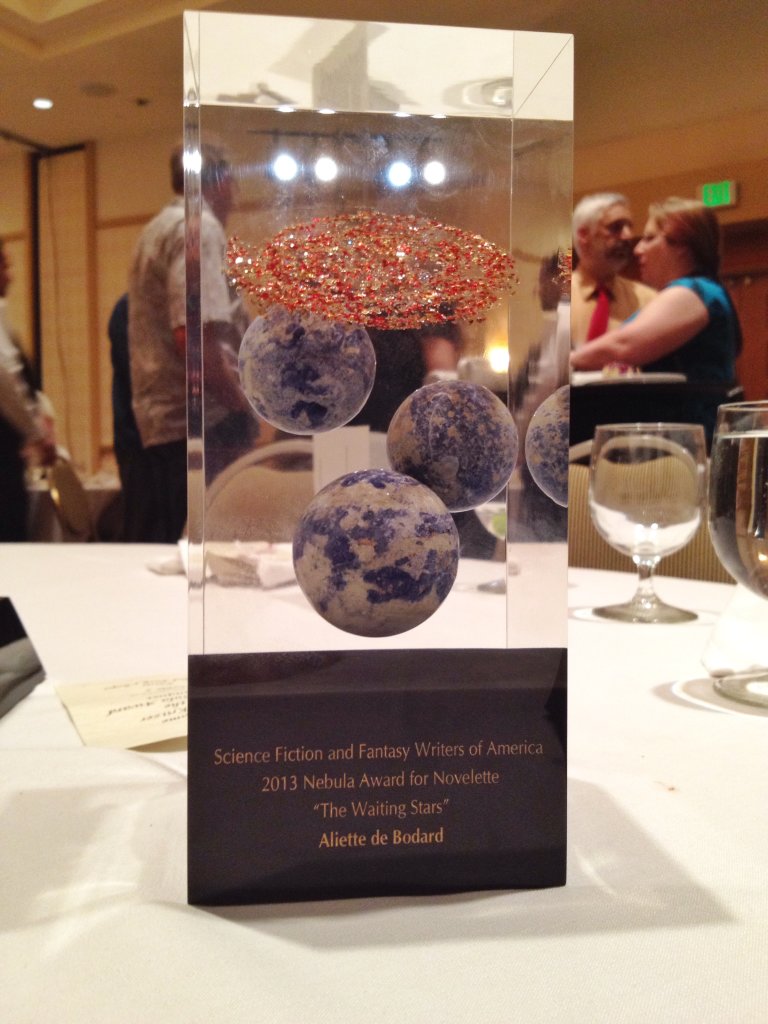 Uh. I would appear to be the owner of a brand-new Nebula Award for Best Novelette, for my Xuya space opera "The Waiting Stars".
Copy-pasting my acceptance speech here:
I am honoured–and vaguely shocked–that I get a repeat performance at the Nebulas this year. Many thanks to everyone who voted for me and helped spread the word, and to my co-nominees, who all made this category such a difficult one to vote in! This story wouldn't have come to pass without the fabulous Athena Andreadis and Kay Holt and their awesome anthology project of female-dominated space opera. I am indebted, as always, to Rochita Loenen-Ruiz for the friendship, to Ken Liu for being such a great first reader; to 

Sylvia

, who kindly accepted to deliver this speech; and, as always, to my family for the support and love. Many thanks.
Many many thanks as well to everyone working behind the scenes to make the awards possible; and in particular to Steven H. Silver (who, among many other things, bugged me for my acceptance speech and is making sure I get the award mailed home). I am sorry I didn't make it to San José this year–I would have loved to meet everyone, but the thought of a 12-hour international flight with the snakelet in my arms was…. a little too much? :p (I'm a little miffed as well–I didn't actually realise the time difference was so important and assumed the Nebulas were happening in the middle of the night for me; in reality, they must have been handing the award about 30 minutes before I got up this morning–though to be fair, I got up early because the snakelet didn't want to sleep anymore…).
And many congrats to the other winners–Ann Leckie, Vylar Kaftan, Rachel Swirsky, Alfonso Cuaron and Nalo Hopkinson, and Grand Master Samuel Delany. It is an awesome slate this year, and I am very proud to be part of it (am now crossing my fingers Ancillary Justice gets a well-deserved Hugo).
Anyway, this is me in a state of shock. I will go off and see why the snakelet is screaming his head off… #proudmom
(picture courtesy of Kennedy Brandt)