Event: Loncon 3
Location: London ExCel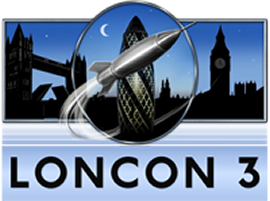 Aka the UK worldcon (we went to Interaction back in 2005, back when the H and I started dating–thus starting the tradition of my dragging him to Worldcon!). Have been much looking forward to this one: the H, the snakelet I will be in town, quite probably August 8th-August 18th or thereabouts.
We will also be attending the Hugo Awards Ceremony, since my novelette "The Waiting Stars" is a finalist for the Hugo. And I have made a solemn promise that should I win (unlikely, but you never know!) I will drag the snakelet on stage in his cute little baby tuxedo.
My final programme is here.