And here's the artwork by Jim Burns for my story "Ship's Brother", which will be in Interzone 241. Full table of contents here (I share a TOC with Gareth L Powell, yay!).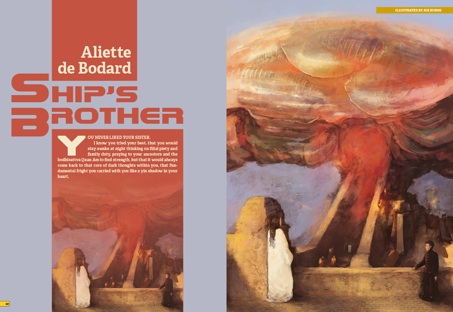 (click to zoom)
This is part of the Xuya continuity and deals with Vietnamese in space. Snippet (with diacritics added in):
You never liked your sister.

I know you tried your best, that you would stay awake at night thinking on filial piety and family duty, praying to your ancestors and the bodhisattva Quan Âm to find strength, but that it would always come back to that core of dark thoughts within you, that fundamental fright you carried with you like a yin shadow in your heart.
(the sharp-eyed among you will have noticed that I used "yin" instead of the more correct "âm"–Vietnamese yin and yang are âm and dương respectively. I would have used the correct words, but since this was a passing reference and was never ever explained, I thought there'd be more chance of people recognising it)